Looking for solar solutions on the Sunshine Coast?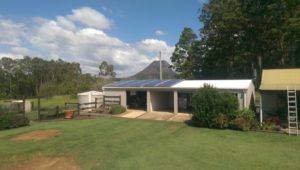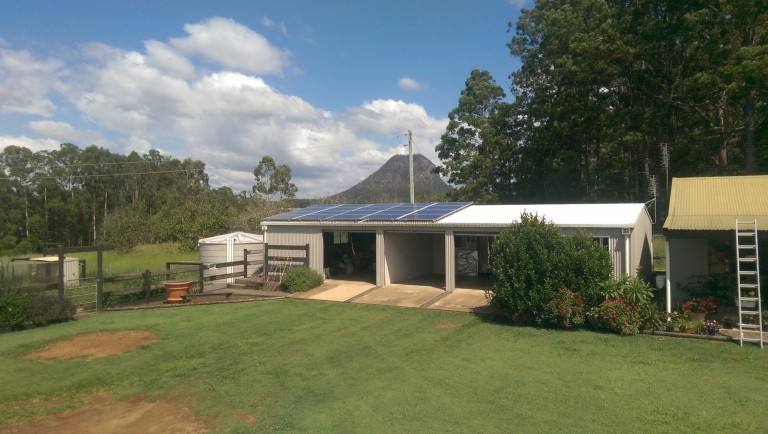 Not every household roof is perfect for solar, that's why choosing a solar system that suits the application can provide a more robust and specific outcome, leading to reduced payback periods and improved returns on investment.
One solution to shaded or partially shaded solar arrays is the use of Enphase micro inverters.
The major benefit of Enphase micro inverters over the traditional string inverter system is that should one solar panel become shaded, the rest of the solar system will not be affected. They can also be mounted facing a number of orientations without adding additional inverters to cope with the additional inputs required.
But that's not all. Enphase micro inverter systems are able to operate at a higher efficiency, have a 10-year warranty as standard, are battery ready and have one of the most comprehensive monitoring portals of any solar inverter product.
As an example, I have chosen a 5kW Enphase system installed by Home and Energy near Pomona on the Sunshine Coast.
This array faces North with a slightly lower than average tilt. The shading issue arises in the mid to late afternoon as the shadow from nearby trees creeps across the roof from West to East.
With the traditional string inverter system, this array would begin to show reduced output over a whole string (10) of solar panels as soon as the shadow covers the first row of solar panels.
However, with the Enphase system, only the solar panel that is shaded shows reduced output.
Read: Compare 3Kw vs 5Kw solar system
Meaning more power for longer.
The versatility of this system is also a benefit. The customer, Steve, is also interested in installing a battery system in the future.
With the Enphase S-Series, Steve can see exactly how much energy he is using during the day and when he is using it. That means when it comes to choosing his battery capacity all the information is available. So why is that an advantage?
Well, if Steve, with the expertise of Home and Energy, is able to correctly size his battery with the information provided, installation and component costs will be lower.
A tailor made solution that suits his needs perfectly.
Another advantage with the Enphase battery system is that he can add more batteries if his situation changes. The Enphase batteries will be available in July this year and are available in smaller – add on packages, unlike other Lithium ion batteries on the market such as Tesla or LG.
This provides Steve with more flexibility over the life of the system.
Along with the Enphase system, Steve has chosen REC solar panels.
REC panels are the perfect choice for Australian solar systems and combine long lasting product quality with reliable power output.
REC combines leading standards of design and manufacturing to produce high-performance solar panels of uncompromising quality.
REC is the largest European brand of solar panel, with more than 15 million high-quality panels produced by the end of 2014.
These solar panels are engineered in Finland and manufactured in Singapore using the most technologically advanced automated production process available.
This makes REC one of the most reliable and consistent products on the market since each solar panel is manufactured in the same way using the same processes; very little variation in output between solar panels occurs.
REC is also a world leader when it comes to innovation and continually set new benchmarks when it comes to international standards such as:
REC's internal testing; which is twice as stringent as industry standards;
REC products and production processes are also certified and endorsed by independent third parties according to multiple global and regional industry standards, solidifying the fact that REC panels meet the highest quality standards required for a long-lasting product;
This high level of quality means REC panels are also leaders in avoiding power loss due to degradation. By choosing a quality REC panel with quality materials, you can be sure to generate more power and thus earn/save more money thanks to reduced degradation;
Internal REC processes are rigidly followed to ensure that all REC panels consistently maintain the highest quality. This repeatable high quality is synonymous with the REC brand;
The reliability and quality of REC panels are evidenced by their claims rate – out of 4 million panels manufactured each year, just 400 might come back as product claims. And in the unlikely event of a product claim, they have a proven process in place that ensures smooth, streamlined, and hassle-free handling.
Should you require further information about REC solar panels, or Enphase micro inverter systems visit their websites:
 System Specs:
20 x 260Watt REC–PE solar panels;
20 x S230 Enphase micro inverters;
1 x Enphase Envoy communications gateway.
 System output (with deductions for shading)
System average daily energy production – 21.6kWh
Annual average energy production – 7,872kWh
Installed cost – $8,496
10 year savings with 80% Self Consumption – $19,104.06
Return on investment – 18.94%
For further information on how Home and Energy can provide you with a solution to your energy costs, contact us via email: iain@homeandenergy.com.au, or by phone: 0481 069 028.